The best parks for parties in London and their maximum group sizes
Living in London we are so lucky to have access to a wide range of public parks. To be honest, you could probably have a fantastic party at any of these places. However the most important thing you should be aware of is the maximum group size allowed for each park. I've made a list of the parks and their group limits here to make things easier for you:
Hyde Park – 40

Greenwich Park – 25

Bushy Park – 20

The Green park – 20

Kensington Gardens – 30

The Regent's Park – 40

Richmond Park – 40

St James Park – 60
If you want more people than this to attend your party, you must contact the relevant park office to discuss locations, signage and fees.
The best parks for parties in Hertfordshire
There are also some amazing parks in the Hertfordshire area that will make the perfect outdoor venue for a birthday party:
1. Stanborough Park in Welwyn Garden
This park is open all year round and on the South Lake you can experience activities such as sailing, kayaking, canoeing and stand up paddle boarding with Stanborough Park Watersports Centre. There is even a children's play area and bouncy castles!
2. Cassiobury Park in Watford
This park is the largest open public space in Watford at 190 acres. It features paddling pools for those hot summer days and a playground for kids up to age of 14 with swings, zip wire, trampolines, a granite stone maze and lots of different slides.
This park also has water activities and a play zone with fountains! There is also a Climbing Forest which brings together loads of vertical beams to form a complex structure with ropes and nets, providing exercise, fun, and stimulation for children over 7. All in all this park is great as it has free admission and a range of trails for different age groups.
If you're the artsy type then this is definitely the park for you. River Lee Country Park features different artworks and walking routes where you'll find loads of natural sculptures such as The Giants Chair and Play Boulders! Admission to this 1000 acre park is FREE but there are some great activity packages if you want to take things up a notch. Lee Valley Animal Adventure Park and Lee Valley White Water Centre have all the party packages you need for an outstanding outdoor birthday party!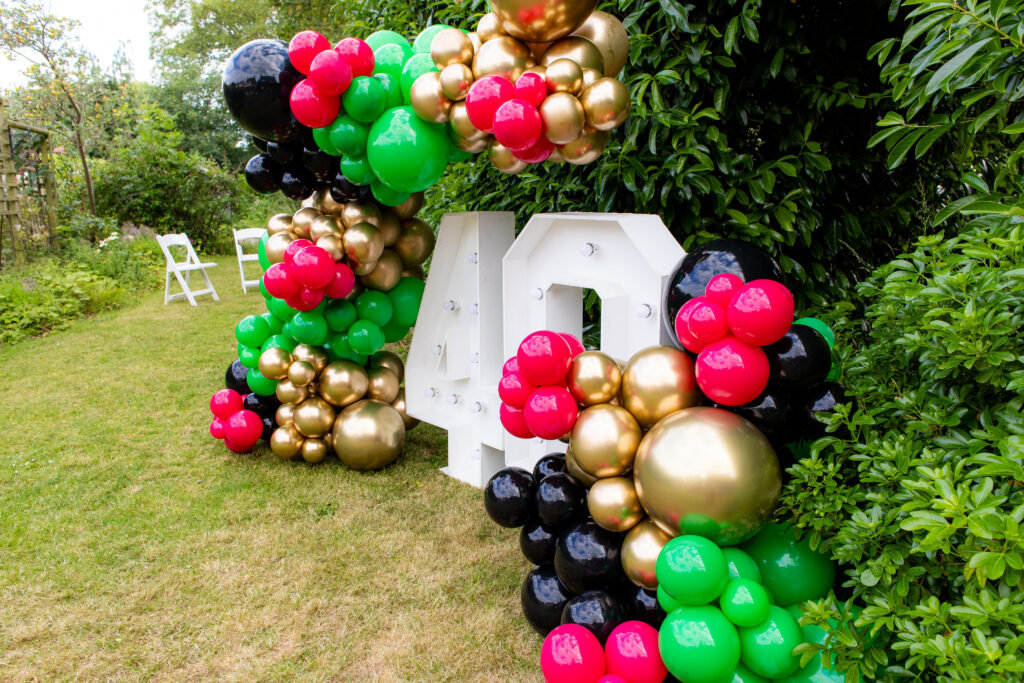 How to organise food, drink and fun activities at your party in the park
You'd be surprised how many fun activities you can organise in a public park. In fact, you can probably enjoy many of the same party games and activities that would have at an indoor party venue. 
Need some inspiration for your party in the park? Try some of these party entertainment classics: treasure hunt, swings, slides, football or capture the flag. With proper planning these activities will be a lot of fun and the kids will get good exercise from running around outside. 
Just remember when planning party games outside that you must clean up and take home any mess that you make. Be considerate of others who may come to the park during and after your party. Try to avoid plastic, disposable plates and cutlery, as these are easily lost or blown away by the wind, cluttering up the park for everyone else. I would personally recommend hiring a reusable party kit to minimise waste, like this one from Party Kit Network.
It can also be a good idea to ask some parents to stay and help out. When having an outdoor party, having extra bodies around to help organise and look after the kids can take some of the stress off you. Just remember you might need more cake to reward your helpers!
Is this all sounding like too much stress for you? Chat with an experienced party planner today and discover a stress free party planning experience today.
Things to keep in mind for your party in the park
The only real downside to having a party in a public park, as opposed to having a private venue, is that you have less control in general. The biggest factor here is the weather and you should be checking the forecast as often as you can on the run up to your party.
If bad weather is looking inevitable and it's too late to change the date, you could consider setting up a marquee for shelter. However keep in mind that all marquees must be supplied and erected by a professional company and some parks do not allow marquees or similar structures.
Lastly, there are different rules for different parks around London and you might need to check with the local council what these are. Depending on the size of the event, you may have to send in an application which includes these details:
the date and time you'd like the event to take place 

the event name and description 

what you'd like to bring onto the site – such as stage, PA system, stalls, vehicles, fairground rides or marquee 

the name of the park you'd like to use 
Parties in the park - cheaper but just as much fun!
Don't let anyone tell you that you need a private venue for a successful birthday party. I promise you can have just as much fun in a public park as you can at a private party if you plan it right. You will probably also save a bit of money and be kinder to the environment if you follow my tips!
Do you love the idea of a party in the park but you just don't have the time to plan one? Don't worry, an experienced party planner can handle everything for you. 
Discover stress free party planning today.